EXHIBITION
Aesthetic Material Available
Miguel Calderon
Opening: October 8, 2021
The Museum of Contemporary Art of Monterrey presents the exhibition Materia esthetic available, the first curatorial review of the artistic practice of Miguel Calderón (Mexico City, 1971) corresponding to three decades of work. Calderón is one of the key figures in the development of the emerging art scene in our country since the XNUMXs and belongs to the first generation of artists connected to a global urban culture.

Available Aesthetic Matter brings together installations, films, sculptures, drawings and photographs, and is presented through thematic nuclei that weave an anachronistic reading of the artist's work, which addresses topics such as the study of human nature, transgression and the analysis of social conventions, and experimentation that questions the margins between reality and fiction; the autobiographical aesthetic experience of the artist where he pours the reflections that he draws from the paradoxes that haunt him. His work, sometimes crude or carefree, explores deep territories on human, social and personal nature

#MUSEODETODOS
#MiguelCalderon
#AestheticMateryAvailable
CURADURÍA: Mariana Mañon and Taiyana Pimentel.
MUSEOGRAPHY: Museum of Contemporary Art of Monterrey
ROOMS: 6 to 11 | Top floor.
TECHNICAL: Painting, video, installation, sound and
performance.
PLAYS: 53
Activities related to the exhibition
GUIDED VISIT
Aesthetic Material Available
Join us to enjoy the Miguel Calderón exhibition from the comfort of your home. We will review the work that makes up Materi Estética Available, a sample present at MARCO.
VIRTUAL TOUR
Aesthetic Material Available
Tour the extraordinary facilities of the Museum's most recent expo and have the experience of visiting MARCO from anywhere.
SEMINARY
Contemporary Art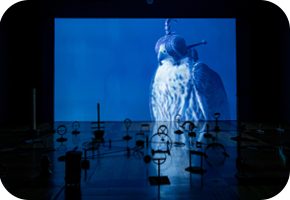 In these six sessions, a dialogue will be established with special guests in the context of the exhibition Available Aesthetic Material by Miguel Calderón.