MARCO offers companies large spaces full of art in which institutional events can be carried out as well as activities for their collaborators through which they can live unique experiences of coexistence and learning.
Rent of spaces
MARCO spaces give a touch of elegance and exclusivity to turn your institutional event into a unique and memorable experience.
GUIDED TOURS
You can request a specialized tour of the exhibits at the Museum by making a prior reservation and at no extra cost to the entrance ticket.
For groups from 5 people.
MARCOmóvil IN YOUR COMPANY
It is a bus equipped as a didactic room and traveling exhibition which connects MARCO with the community in an active way, bringing contemporary art to different audiences, linking them with their environment and daily life. Within the MARCOmóvil there are works by artists from various currents who have mostly exhibited at MARCO and decided to donate or lend a piece for this program.
EXTRAMURAL WORKSHOPS
MARCO visits your company and offers you an active and dynamic art program linked to the sensory, plastic experimentation and literature according to the subject you want to address.
WORKSHOPS IN THE MUSEUM
MARCO offers your company workshops in various artistic disciplines that provide the necessary tools to explore them in a simple and interactive way according to the theme you want to address.
MEMBERSHIPS SECTION
Contribute and support art
Join and experience art at MARCO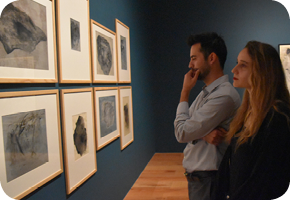 Enjoy art in a unique way with benefits such as exclusive activities and events, free tickets, discounts, reciprocity with other museums, and also contribute to the development of educational projects at the Museum.
VIRTUAL TOUR
Peak and corn
Damián Ortega
Tour the extraordinary facilities of the Museum's most recent expo and have the experience of visiting MARCO from anywhere.
EVENTS
The ideal place for your event
Elegance and exclusivity
The spaces of the Museo de Arte Contemporáneo de Monterrey, give a touch of elegance and exclusivity, also offering professional services and the technical facilities necessary to turn your celebration into a unique and memorable experience.
CONTACT US FOR FURTHER INFORMATION